Culmaily Blog
Welcome to the new Culmaily Farm and Cottages website and our first blog. We plan to regularly update the blog with news from the farm, local events and some commentary and opinion. The website is linked to Gael Holiday Homes who are marketing the cottages on our behalf. For more information please visit Dornoch & Sutherland cottages, lodges, apartments self-catering (gaelholidayhomes.co.uk). Alternatively, direct bookings for Culmaily Farm Cottages can be made on this site.
To begin with, a few words of introduction.
The McCall family has been farming at Culmaily since 1970 when Alan McCall acquired the tenancy from Sutherland Estates. Fast forward 50 years and the farm has been bought by the McCall family and is being run in partnership between Angus and Evelyn and their son Ewan, married to Claire, currently working as a vet in a local veterinary practice in Tain. Their two children, Claire (5) and Alan (2) both take a lively interest in the farm and could potentially be the 4th generation to live and farm at Culmaily.
In 2016 a dramatic change took place when the family was unexpectedly given the opportunity to purchase the farm from landlords, Sutherland Estates. Almost every tenant farmer aspires to own his farm so this was a dream come true and a life changing event. Although ownership has made little difference to the way we farm, we still run beef cows, sheep and grow malting barley, we now approach the business with a different mindset and there are now many more opportunities to invest in and grow the business in other ways, such as renovating cottages and establishing a holiday cottage business.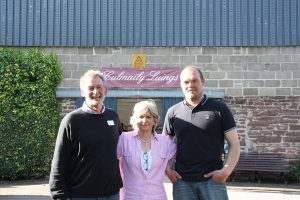 It has taken us 5 years, but we have now thoroughly renovated, modernised and landscaped the four cottages on the farm and are ready to welcome our first guests from the beginning of July. This is probably not the best time to be launching a new venture but we are sure that guests will enjoy the comfort and tranquillity of the cottages and the variety of activities available in the locality.